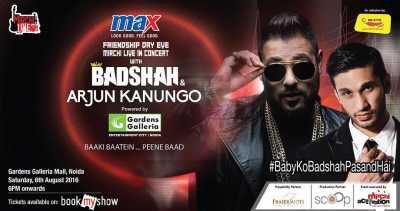 As we all know, friendships day is celebrated on the first Sunday of this month and Sundays are meant to be spent in your pajamas and not to move out of the house. But you cannot be lazy on this Sunday as to make your day amazing for you and your friends, there are many events that are happening all around the city.
If you wish to go out with your gang and enjoy the day roaming around, here are few of the options
1)     Pre friendships day party:
The fun starts a day in advance. This party is all about Dil, Dosti, Dance. You will see DJ Sandhu, DJ Aries, DJ Sagar and many more exciting artists.
VENUE: Bunk House, PVR Saket, Delhi
DATE & TIME: 6th August, 1 pm onwards
2)    BFF' 16:
This is going to be the most happening jam in the city paired with perfect ambiance. You will get to see DJ Ttanuj, DJ Priya and many more performing live.
VENUE: Grand Royal Night Club
DATE & TIME: 6th August, 2 pm onwards
STAG ENTRY: Rs.700
COUPLE ENTRY: Rs.1400
(Girls entry free till 3 pm only through official guest list)
3)    Mirchi Live in concert with Badshah:
Dance and swing to the beats of pop star Badshah's song. He will be accompanied by Arjun Kanungo. Add some swag to this beautiful evening full of fun and friends.
VENUE: Garden Galleria
DAT & TIME: 6th August, 7 pm onwards
ENTRY: Rs.499 per person
4)    Sufi Signature Saturday:
Call in this friendships day while enjoying some amazing sufi music presented to you by Anhad The Band.
VENUE: Believe Epic
DATE & TIME: 6th August, 9 pm onwards
5)    Friendship Day Brunch:
This is an event full of fun activities and amazing food. You can play coin hunt with your friends and the winner gets a 100% discount on food and drinks. You can go in a group of 5 and the 5thperson eats for free.
VENUE: Country Inn and Suits by Carlson, Sector 29, Gurgaon
DATE & TIME: 7th August, 11:30 am onwards
6)    Pool party celebrations:
Kill the heat by jumping into the pool. Enjoy a perfect afternoon dancing and swimming with friends.
VENUE: Piccardily Hotel, Janakpuri
DATE & TIME: 7th August, 2 pm onwards
ENTRY: Couples and girls enter for free till 4pm through official guest list
After 4 the charges are Rs.1000 with full cover charges
7)    Art Stint:
The growing seed present an afternoon full of food, art and colors. Here you and your friends can paint some glass and enjoy the inner child in you. The café will be providing all the material.
VENUE: Raasta Caf, Cyber Hub, Gurgaon
DATE & TIME: 7th August, 4pm onwards
ENTRY: Rs.700 per person
Do go out and enjoy this day with amazing food, drinks, music and different activities.