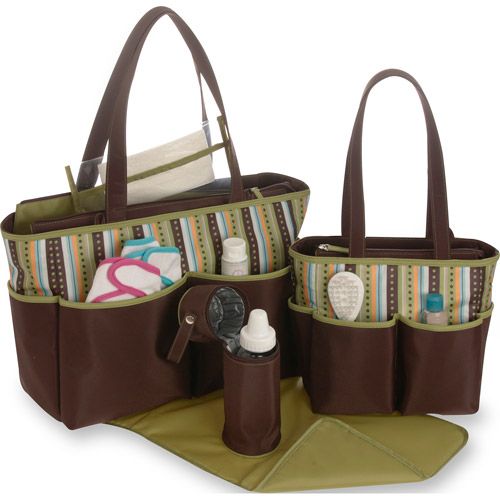 The first time I went out with my little one I had a diaper blast!( The kinds where poop leaks till the back and I was unprepared). I had clothes but no vest! That is when I realised packing a diaper bag is not as easy as it looks.
Packing the diaper bag for the first time is a daunting task. Often we get confused with what to keep and what is not essential. So to help new mommies here's a comprehensive list on what why and how much to pack in that diaper bag for the love of your life.
Ps: Packing essentials changes as a baby's diet and age changes.
Diapers. How many you pack depends on how long you're going to be out, how old your baby is, and how he's feeling (if you're heading to the doctor because your baby has diarrhea, for instance, pack several). And never forget to follow the plus-one rule of baby diapering: Always pack one more diaper than you think you'll need.
Wipes: Pack them in a resealable plastic bag or case to use when changing diapers, cleaning your hands, or removing spit-up stains from your clothes. It makes sense to pack baby wipes and adult wipes for yourself.
Diaper cream: When you are out, holding the baby for long  can cause chaffing or diaper rashes. Using a cream acts as a layer of protection to help to prevent diaper rash from developing — or to soothe your baby's bottom in case one develops.
Changing pad: If your bag doesn't come with a pad, add your own, but choose one with a washable or wipe-off cover. In a pinch, you can always use a towel or your dupatta. I also carry newspapers which can be discarded post use and are helpful especially in changing rooms as they help avoid germs.
A complete set of clothes: From vests to inners to onesie to socks. Also pack a blanket or a wrapping sheet.
Hankies and bibs: Messing up is often a babies second nature and hankies and bibs are great to control and clean some drool or vomit.
Pacifier: They are great especially if your baby gets cranky or you need to stall them from bawling as you prepare that bottle of milk. However we would not recommend a nonstop use of a pacifier as the habit is difficult to break.
Food: If you are a nursing mother you need to carry a dupatta or a nursing cover. And if your baby is formula fed prepare and pack sterilised bottles, formula, bottle cover, flask of hot water.
A rattle or a small toy: Distraction is sometimes important to calm down a baby. Plus most little ones enjoy toys.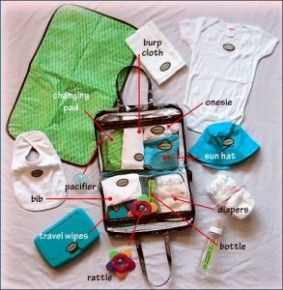 Cotton: cotton has a variety of uses. From cleaning slippery poop (a wet cotton is better than wipes) to cleaning a bit of puke. Always keep some in your bag.
A fruit to replenish your energy: because every super mom needs some power!
Extras:. Depending on how long you're planning to be out, include a burping cloth sanitizer, a garbage bag for dirty diapers. Consider packing a tee shirt for yourself  if your little one is prone to spitting up. And don't forget a little lipstick to look every bit of that yummy mummy you are.