The government has introduced biodegradable sanitary pads at affordable price.
It seems that this women's day was good for Indian women's as a major initiative has been taken in their favour. The government has launched a biodegradable sanitary pad 'Suvidha' on  international women's day. We must appreciate the government's efforts to ensure 'Swachhta, Swasthya and Suvidha' for underprivileged women.
The sanitary pads are oxo-biodegradable priced at INR2.50 and will be available at Pradhan Mantri Bhartiya Janaushadhi centers. There will be four pads in a packet and it will cost Rs.10. The pads have been made to improve the menstrual health of underprivileged women.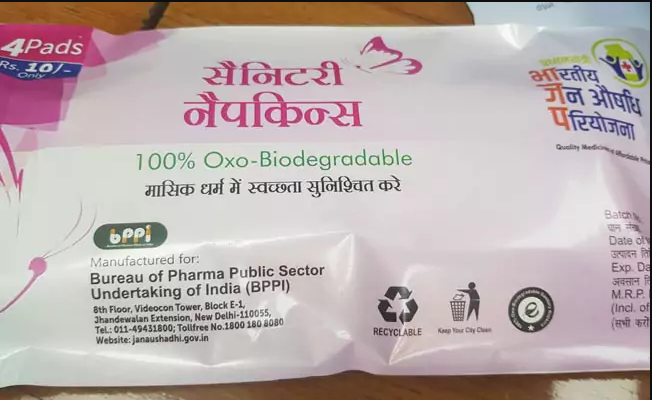 On the occasion, Union Minister for Chemicals & Fertilizers and Parliamentary Affairs Ananth Kumar said, 'this affordable sanitary pad will promote hygiene, ease of disposal as well as keep the environment clean'. The Suvidha pads will be available at all Janaushadi centers by May 28, 2018 (World Menstrual Hygiene Day).  He further added "From the average price of Rs 8 a napkin, we are bringing down the cost to RS 2.50. These are the first set of biodegradable sanitary napkins to be available in the market. These are much cheaper than Stayfree, Carefree and Whisper pads available in the market".
The governments introduced the cheap pads at a time when there is a debate going on to make these products tax-free. The government has also been arguing over merits of exempting tax on non- biodegradable sanitary pads being manufactured on huge profits by top companies.
According to National Family Health Survey- 4 (2015-2016), 62% young women in the country in the age group 15 to 24 years still use cloth for menstrual protection. NFHS- 4 revealed that 42 % young women in the country used sanitary pads while 16% used locally prepared pads. Maybe after this initiative will change their approach towards sanitary napkin.