Indian Air Force Carries Out Strikes Across LoC, Dropping Bombs On Terror Camps:
While the nation is still in shock because of the deadly Pulwama attack the Indian Air Force has carried out air strikes on terror camps across the Line of Control. In an operation, that took place around 3:30 AM this morning, the aircraft dropped 1,000 kg laser-guided bombs on terrorist camp across the LoC. The air strike was carried out in Balakot sector.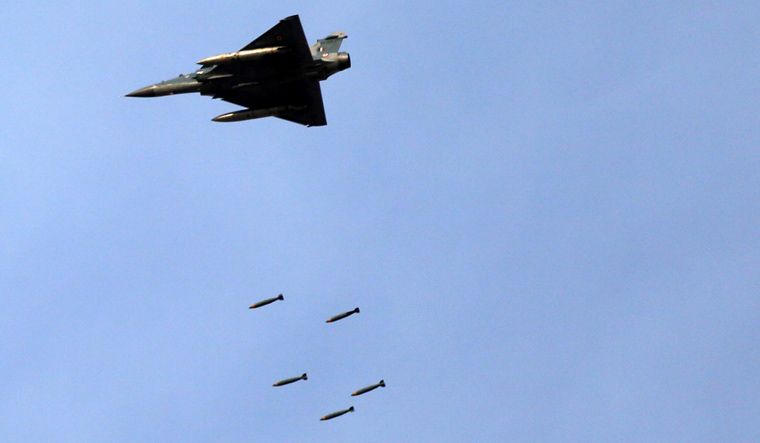 According to sources: three control rooms of Jaish-e-Mohammed (JeM) were destroyed in Balakot, Chakoti, and Muzzafarabad.
The strike by the Indian forces has been done in less than two weeks after the Pulwama terror attack was done in Jammu and Kashmir by the Pakistan-based terror outfit JeM where 40 CRPF jawans were killed.
The people are proud of this move of Indian Air Force:
Uri attack : 18 Sep
Surgical Strike : 30 Sep

Pulwama attack : 14 Feb
Air Strike : 26 Feb

Didn't know Indian Military was also fond of Arithmetic Progression 😍😍

Hey Pakistan how are you feeling now . #Balakot #surgicalstrike

— Hemanth Raj (@hemanthrj) February 26, 2019
They were prepared for the INDIAN ARMY but IAF came out of syllabus..
JaiHind🇮🇳 #IndiaStrikesBack #surgicalstrike

— YogeshDevdhariya (@bracefor1mpact) February 26, 2019
Just to make it clear, unlike the previous #SurgicalStrike we didn't just cross the LoC, we went beyond into Pakistan's Balakot, dropped 1000 kg bomb, destroyed JeM Terror camps and came back safely. Kudos to #IndianAirForce 👏🙌🇮🇳 #Balakot #SurgicalStrike2 #IndiaStrikesBack pic.twitter.com/ZgWxkt98ud

— Sir Jadeja fan (@SirJadeja) February 26, 2019
300 terrorist killed inside Pakistan.

How's the Josh?
– High Sir

How's the Jaish?
– f**ked Sir#Balakot #surgicalstrike pic.twitter.com/kbxwhLHADu

— Kuldeep choudhary (@Kuldeep062) February 26, 2019
Salute @PMOIndia and @IndianAirforce_ #JaiHind#Airstrike #BharatKeVeer #indianairforce #CRPF #BharatKeMannKiBaat #IndiaStrikesBack pic.twitter.com/EUAPNDV4bD

— आर्य मोनिका 🇮🇳🇮🇳🇮🇳 (@aaryamonika) February 26, 2019
Salute to the Indian Air Force. Shaandaar #IndiaStrikesBack

— Mohammad Kaif (@MohammadKaif) February 26, 2019
Pakistani Airforce is ready to retaliate. 🤣🤣 #Surgicalstrike2 #Balakot #IndiaStrikesBack #IndianAirForce pic.twitter.com/oQue4sYHs8

— Kesari M (@KesariM2) February 26, 2019
Salute🇮🇳 #IndianAirForce #Balakot #IndiaStrikesBack pic.twitter.com/wdzpZkrTAv

— Gandhi kannan🏄 (@gandhi_offcl) February 26, 2019
Hey Neighburs,
Remember what happened the last time you crossed the line? #surgicalstrike pic.twitter.com/lgbs4QB3Zm

— Simal (@iizapotato) February 26, 2019
what an attack . #Congratulations #india #Surgicalstrike2 #surgicalstrike2.0 #kararajawab #Attack #surgicalstrike #IAFAttack #IAF
Fighter jets of the Indian Air Force (IAF) crossed the #LOC to Pakistan in the wee hours to destroy a major #TerroristNationPakistan camp with bombs. pic.twitter.com/gdKGUFTKBv

— avichandel (@icrackertwitt) February 26, 2019
What a morning it is.
Thanks a lot @IAF_MCC @narendramodi #PulwamaRevenge #surgicalstrike2 #IndiaStrikesBack #NaMoAgain2019 pic.twitter.com/wAIExuPByN

— Manasvi Tomar (@TomarManasvi) February 26, 2019
@narendramodi Such actions could only be possible because India has Modi as the prime minister. So, Thankyou modiji #Pulwamarevenge.
Hows the Josh?? High Sir!!!!!!! #IndiaStrikesBack #IAF

— Smriti Sharma (@Duchess_smriti) February 26, 2019
#Surgicalstrike Salute Indian Air force 💪❤️ pic.twitter.com/56bozJlSyE

— അപ്പുപൻതാടി (@appupanthadi) February 26, 2019
It was quick n cruel. We were not limited to loc we went into pak n hit them hard. #surgicalstrike 2. Now tell us how's the jaish?@republic @pmo

— mittu (@mittu11708175) February 26, 2019
Moral of the story :No mountain rat should dare to stand up against the mighty tiger #indiastrikesback #surgicalstrike

— Venkat Anirudh (@venkat16feb) February 26, 2019