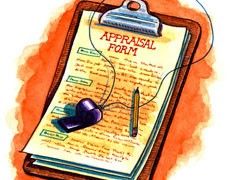 March is appraisal month for most office goers. An appraisal purely reflects your impression on your boss. A good appraisal means your efforts have paid off. In case you have not one up to the mark, don't get disheartened.
Impressing your boss doesn't mean slogging day and night in the office. Aaw suggests easy methods to please him.
Be punctual: Punctuality is the key to success. A late comer is never appreciated.  It's better to reach before time rather than reaching late to work. Bosses usually keep a tab on the attendance time of the employees.
 Innovative ideas: A senior always appreciates helpful ideas. Share your creative and innovative ideas. Make them realise that you are game for new conceptuality. But have some knowledge on the relevant subject. Always do your R&D before giving forward your ideas.
Keep him in the loop: Keep him updated on your work to avoid misunderstandings. In case something goes haywire, he is always there to support you. A bad surprise is never appreciated.
Volunteer: Show your willingness and enthusiasm for a new task. But don't be over-confident, never take responsibilities you can't fulfill.
Spend time: Try spending quality time your boss to build a rapport. Go out for coffee or a cigarette break and know more about likes and dislikes.
 Don't get personal: Remember that he is your senior, always maintain that distance. Maintain a professional yet friendly relationship.
Never Argue: Bosses usually have a big ego so never argue. Politely express your views because one wrong move may spoil everything.
Hope these pointers help you get that much needed appraisal. Or else look for another job if you feel you are never going to meet his expectations. Sometimes leaving is a good idea!