Make the most of Monday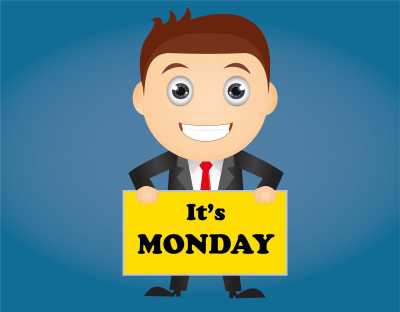 Monday morning is both important as well as annoying time of the week. It's important  as its the beginning of the new week which is time to make the plan of action for week and annoying because the weekend gets over. We always crib about Monday and discuss about ways of beating Monday morning blues but today Team AAW tells you few things you should do on the first day of the week.
Get up early: We understand that getting up early on a Monday Monday is a tedious task but trust us you will feel much better and relaxed. You will not only get less traffic but will also reach office on time and have enough time to gear up for the day. If you can spare some extra time do some workout to helps you stay alert and active.
Update your to-do list and goals: To get your week started, create a weekly goals list. This essentially is a list of all that you want to get accomplished this week. Try to keep it realistic.
Eat a healthy breakfast: During weekends you must have binged a lot of unhealthy food so its time to get back to healthy one. Eat a healthy breakfast so that you have the energy to start your work without waiting for the lunch break.
Talk to your team: It's a great way to see how everyone is doing and get any feedback they may have. You should also discuss with your team the week ahead and what their priorities are.Spend some extra minutes with your team and motivate them for the coming week.
Start with the toughest work: Start your biggest project first and don't wait until the end of the week. Chip away at it little by little during the workweek so that you are practically done with the work by the end of the week.