Only card holders can use their personal debit card!
Though it sounds weird but allowing your spouse or relatives to withdraw money from your ATM could now onwards be harmful . As per bank rules, an ATM card is non-transferable and also no other person apart from the account holder should use it.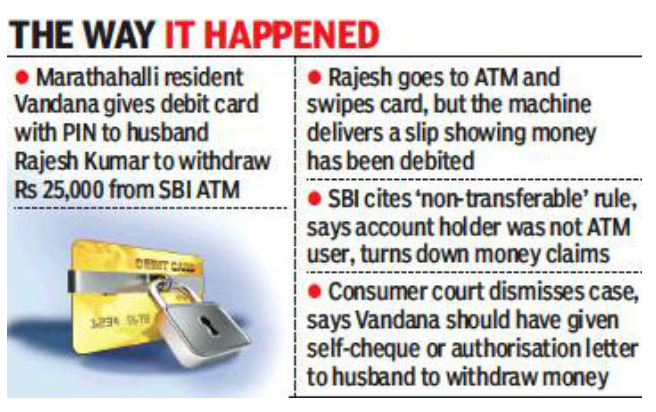 This came in news when, a Marathahalli resident Vandana gave her debit card with PIN to her husband, Rajesh Kumar, to withdraw 25,000 INR. Rajesh thereafter went to the ATM and swiped the card where the machine gave a slip that showed the amount was debited, but the cash wasn't released. SBI cited the 'non-transferable' rule and said the account holder was not the ATM user and on the contrary turned down the money claims. Vandana therefore approached the Bangalore IVth Additional District Consumer Disputes Redressal Forum stating that the bank failed it give her money back. When asked why her husband went to take the money she said she had just given birth and was on bed rest.
Earlier Rajesh had also called the bank helpline number to tell that he did not receive the money though it was deducted.  After not receiving it he approached the bank's Helicopter Division branch at HAL with a formal complaint. But they were left in shock after SBI closed the case stating the transaction was correct and the customer got the money. The couple then approached the court with a video footage showing he did not receive money and a cash verification report of the ATM after filing RTI, that showed an excess cash of 25,000 INR on that date in the machine.
The case went on and in its verdict on May 29, 2018, the court ruled that Vandana should have given a self-cheque or an authorization letter to her husband for withdrawal instead sharing the PIN. The court further dismissed the case!
We had a long discussion about it during lunch so we would love to know your opinion on the same too.  Tell us by commenting below.