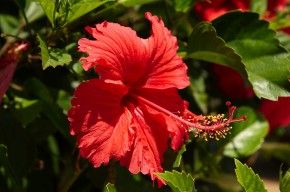 Scientists from two universities in India – Assam's Tezpur University and West Bengal's Visva-Bharati University say that they have discovered a therapeutic chemical in specific species of Hibiscus that can help manage diabetes.
62 million Indians are known to be diabetic and diabetes is known to be the seventh leading cause for death around the world, according to the World Health Organisation.
Researchers at the universities have found that a beneficial phytochemical in Sthalpadma's leaves. The species is technically known as Hibiscus Mutabilis. According to the team, the chemical is able to restore insulin sensitivity of cells in diabetic rats.
Samir Bhattacharya, Emeritus Professor, School of Life Sciences (Zoology Department) at Visva-Bharati in Shanti Niketan, said "We found that feraulic acid (FRL), belonging to the polyaphenols, extracted from leaves of the plant, has the potential to be a better therapeutic agent for diabetes."
The plant is also used for beauty treatment, said an expert, adding that "The hibiscus flower is known as the prayer flower in Bengal and offered to Durga. It is great for hair loss and its leaves and flowers have thereuptic properties. It has been used in ayurvedic preparations for years. We use it in our Basil Hair tonic that helps promote hair growth and prevents scalp infections and alopecia."
The next step, the team proposes to do, is to purify the chemical and study it for toxicity.