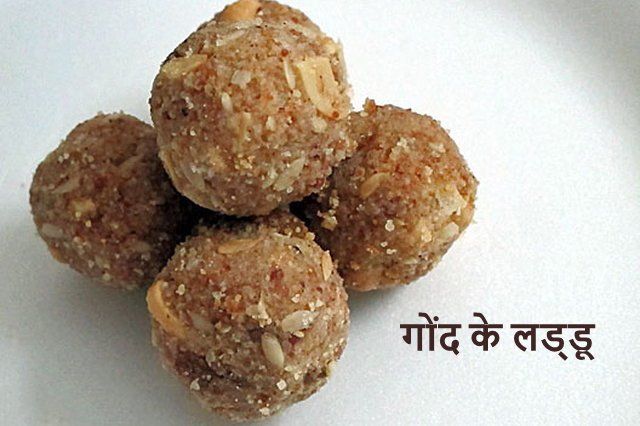 Many Indian families make gond ke laddoos in winters. Gond or Tragacanth gum laddoos is a sweet packed with highly nutritional ingredients like ghee, whole wheat and nuts.
A piece of the laddoo with plain hot cup of milk every evening is high on calories, taste and health benefits. It is a perfect sweet to eat in winters as the mixed ingredients together provides the required warmth to your body too.
 Team AAW tells you why everyone should have them in winters besides they being full of calories.
1.    Energy Booster
Having one gond ke laddoo  in the morning will give your body abundant amount of energy to keep you energetic throughout the day.
2.    Stronger bones
The edible gum strengthens and nourishes the bone tissues so you can get rid off all kinds of joint and bone pains with regular consumption.
3.    Keeps you warm
Gond ke laddoo acts as a natural heater for the body as its ingredients like almonds and pure ghee are densely rich and hence provides warmth to your body. It's a must have sweet in winters.
4.    Dry free skin
Once you start consuming gond laddoos you can see a difference in your dry skin as the sweet is wrapped and rolled with ghee that mosturizes the skin naturally. Besides this it helps to delay wrinkles and fine lines too.
5.    Breastmilk
New mothers are always asked to have gond laddoos in particular as it accelerates the flow of breast milk required for the newborn.
6. Treating Constipation
Gond  possesses purgative properties and so it is very helpful in treating constipation. It works as a laxative.
Tip: Make sure you do not consume anything cold for at least 45mins after the consumption of the laddoo.
Do not miss on the awesomeness of Gond Laddoo this season. They are a perfect gift to your loved ones.