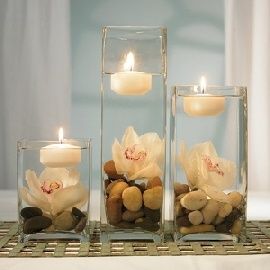 Chipped your favourite glass or that expensive crystal one? Don't fret and throw it out yet. We at AAW love recycling products and here are 5 ways you can use slightly chipped glasses:
Candle-stand: Get creative, add coloured water, flowers or just a simple floating candle to the glass. It makes an interesting piece.
Flower vase: Add a fresh flower or some plastic ones that are easy to maintain. To make it interesting add some pebbles or coloured stones or marbles inside for a special touch.
A side lamp: Make the glass work as a pretty side lamp by adding a sting of colourful fairy lights. For a prettier effect add twinkling fairy lights  in standard yellow. If you gave time you can also colour the glass with glass paints which are widely available in stationary shops.
Knic-knac holder: Use the glass to keep pins, clips, cotton etc. To make it interesting use glue to make a design on the surface of the glass, now roll the glass over lose glitter.
Makeup holder: Turn your glass into a makeup holder by adding some thermacol in the base and some plastic pearls on the top. You can stick your makeup brushes, mascara, lippy into your favourite glass!