House plants to improve your health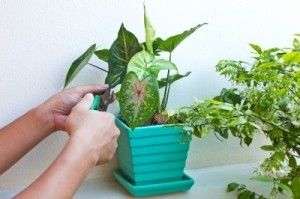 Plants are undoubtedly an asset in the home decoration. The greenery around your balcony helps uplift the mood and also helps spread greenery! According to experts, people who don't have house plants are missing on a healthy and natural way to good life. Besides making the house look colourful and inviting, house plants have health benefits too. They boost your immunity; improve your sleep quality, fighting allergies to name a few. Read on to know more…
 Reduce carbon dioxide: As we all know that plants inhale carbon dioxide from the air and exhale oxygen so indoor plants help to increase the amount of oxygen in the house. They cleanse the air by absorbing harmful chemicals and toxins.
 Beat stress: Many offices prefer to put plants in the premises not just to enhance the interiors but also because of the health benefits. Green colour is known to have a de-stressing effect on the mind. It uplifts the mood and creativity. It also helps prevent health problems like cold, fatigue, blood pressure and headache. Some say that plants placed in hospitals help in quick recovery and healing of the patients.
 Controls sound: Plants absorb and reflect sound which helps to reduce background noise levels inside buildings. So if you live next to a busy street place few small plants inside your house to absorb noise.
 Medicinal purposes: Some plants offer treatments for minor problems like pain relief, gastric trouble, headache etc. Plant aloe vera for beautiful skin and pain relief, peppermint for digestion, gas, headaches. Lemon balm helps soothe tension and anxiety and heal cold sores.
Cooling effect: During summers plants can help cut down your electricity bill by keeping the house cool. Indoor plants also act as natural humidifiers by absorbing the moisture and thus lowering the humidity level.
 So this weekend visit a nursery near by to buy some plants for your house and enjoy the numerous benefits they offer.