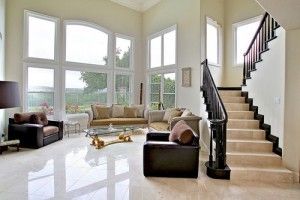 Marble is now an important interior style as it enhances the look of the house. The markets are flooded with different varieties of marble but often the prices of marble flooring, tables, or counter tops are steep and can burn a hole in your pocket. So if you have invested on marble flooring it is important to make some effort to keep it shiny and lustrous for long. Here are some cleaning, maintenance and precautions for those expensive marble accessories:
Choose the marble carefully according to the place and usage.
Dust the table top and slabs regularly with a moist cleaning rag.
If dusting doesn't help than spray some liquid soap onto the marble and wipe with a damp cloth.
To remove food residue just moisten a rag with hot water and drizzle three drops of liquid dish soap onto the cloth to clean the table top.
Marble flooring gets slippery so wipe the water immediately after cleaning.
Avoid using chemical cleaners or acids like vinegar and lime juice or tile cleaners on marble as they dull the stone.
Furniture scraping across the floor can cause scratches on the tiles so; you should have protective coverings on the bottoms of chairs and other pieces of furniture.
Always place drinks on coasters, plates on place mats and hot dishes on pot holders to prevent damage to the marble table top.
If anything spills on your marble countertops, wipe it up with a damp rag as soon as possible.  Avoid using any kind of oil soaps on your countertops.
Keep bleach, nail polish remover, permanent markers and ink away from counter tops.
Do not use hot water to clean spilled milk as it may make the stain worse.
It is advisable not to cheap quality cleaner as it may result in permanent loss of shining.