From Lath Maar to a flower only celebration. Here are the beautiful types of Holi celebrated in Mathura & Vrindavan
The festival of Holi is a grand celebration and is celebrated with great enthusiasm around the country. Special customs and traditions are behind this celebration. This colourful festival is celebrated in Vrindavan and Mathura. Here are the types of Holi that are celebrated:
Lath maar Holi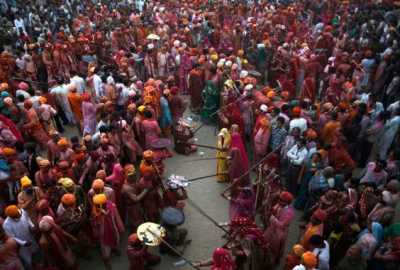 This style of celebration is violent and yet peaceful. In this festival in Mathura, women beat men with wooden sticks and men try to save themselves. It is said when Lord Krishna visited Barsana to play Holi with Radha he teased her and her friends. The ladies then chased Krishna by beating him with sticks. From then, men from Krishna's village Nandgaon visit Barsana on this day and get beaten, chased by the women.
Phoolon wali Holi
Prior to Holi on Ekadashi, the Banke Bihari temple at Vrindavan, celebrates it in a unique style. Flowers are used for playing with each other and hence the name Phoolon wali Holi was given.
Hurunga Holi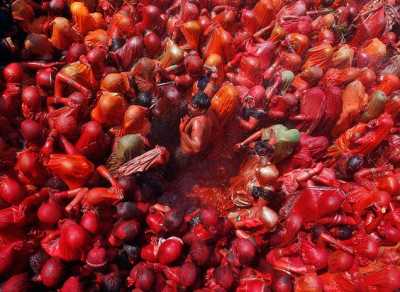 It is played the same way as Radha-Krishna used to play during their days. Men drench women with coloured water and women in return tear men's kurtas and whip them with it.
Rang Panchami
Temples, ashrams and even the roads of Mathura and Vrindavan are all coloured on this day. Rang Panchami is celebrated five days after Holi that is the 5th day of the Krishna Paksha. It relates to five elements that human body is made of; earth, light, water, sky, and wind.
Holi at Banke Bihari Temple
Banke Bihari is believed to be the birthplace of Lord Krishna. The temple opens up to all visitors to come and play the colourful festival with the Lord himself. The priest of the temple throws colours and holy water on the crowd and people chant Krishna's name together and enjoy the celebration.