Check out fan reactions on the trailer of Sui Dhaaga:
Varun Dhawan and Anushka Sharma starrer Sui Dhagga is one film that everyone is keenly waiting for. The film is a tribute to the Indian Handlooms and has the unconventional pairing of stars as well. After the posters and photos finally the trailer of the film has been released.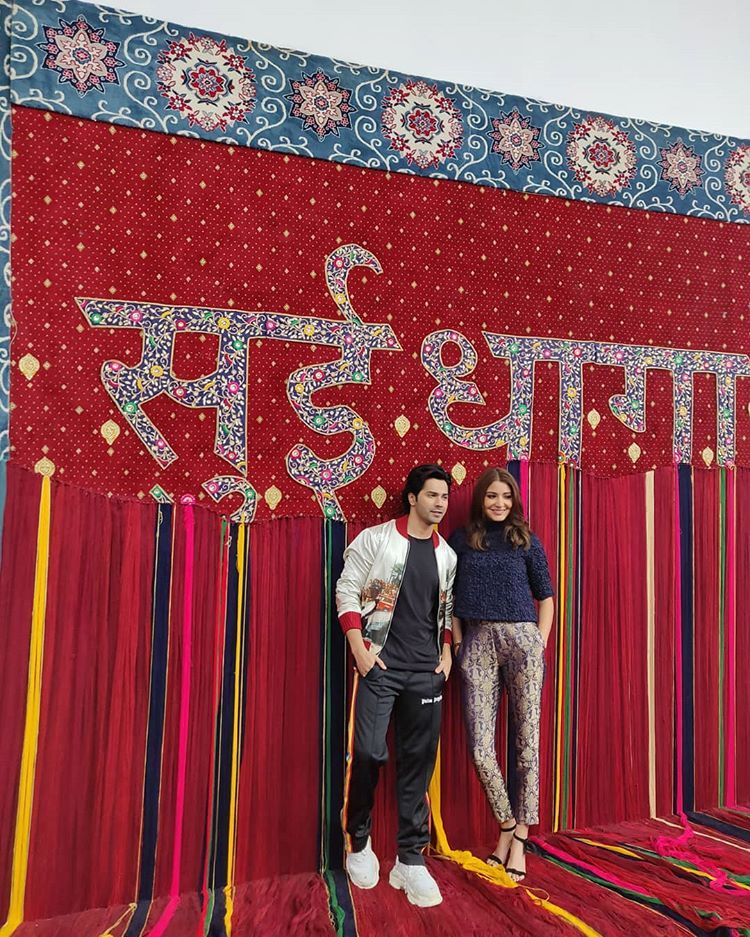 In the trailer, Varun and Anushka can be seen entering into a new genre away from the glamour and taking out roots of our country on the big screen. The film celebrates Indian craftsmanship and the emotions and dialogues of the film will want you have more of it.
Check out the trailer:

Varun Dhawan impresses in the role of the lively man and Anushka has won hearts with her clean beauty and innocence. Their acting is cherry on the cake.
The trailer was released online and fans cannot stop praising the trailer. We believe it won't be wrong to say that the film is a must watch for everyone.
Check out the reactions:
Can't express my feelings after watching this….. It made me cry…. Two brilliant actors….

— fazil mohammed (@fazilmohd72) August 13, 2018
That's LOOK LIKE a BIG WINNER 👍

— Prem Bhadauria (@premlovebank) August 13, 2018
Blockbuster! #SuiDhaagaMadeInIndia #SuiDhaagaMadeInIndiaTrailer

— Anuj Dhawan (@Anuj_dvn) August 13, 2018
OMG …. Watching this trailer brought tears to my eyes 😭 Kudos @AnushkaSharma @Varun_dvn 👏🏼👏🏼 WOW !!! How refreshingly beautiful after such a long time !!

— Dee ✨💫 (@Dee83x) August 13, 2018
Jabardast Trailer he, movie SUPERHIT he pic.twitter.com/h7KOhdJtGF

— Mahek Shukla (@EF_MahekShukla) August 13, 2018
Fantastic Trailer, @Varun_dvn and @AnushkaSharma both are looking very convincing in their roles. After looking this trailer I changed my mind. Now I will surely watch this movie in theater at night show in the weekend and
I will watch FDFS if @TOHTheFilm poster releases with it

— Irfanulla Khan (@IrfanullaKhan14) August 13, 2018
@SuiDhaagaFilm Trailer is just phenomenal, goosebumps after watching the trailer. This Gandhi Jayanti @Varun_dvn and @anushkaSharma are all set to win millions of heart with this most exciting film of the year. Sure Hit! ❤#SuiDhaagaMadeInIndiaTrailer pic.twitter.com/cFH12ibDdE

— SAURABH SINGH (@itzSaurabh786) August 13, 2018
The film has not only gathered love from the audience but from celebrities also:
Absolutely LOVE the #SuiDhaaga trailer @Varun_dvn and @AnushkaSharma you guys are awesome!!! ♥️

— Shraddha (@ShraddhaKapoor) August 13, 2018
Love it!!!!!! Well done vd 🙌🙌🙌 @AnushkaSharma you are just too good 💕🌞 https://t.co/vQiA3RkrxP

— Alia Bhatt (@aliaa08) August 13, 2018
For me undoubtedly one of the best trailers I have seen this year! Texture, language,strong messaging and the promise of brilliant perfomances! #SuiDhaga has the @Sharatkatariya magic all over it! Well done #ManeeshSharma @yrf @Varun_dvn @AnushkaSharma https://t.co/fx2yLZCKHy

— Karan Johar (@karanjohar) August 13, 2018
#SuiDhaagaMadeInIndiaTrailer made me smile. Can't wait to catch this beautiful story in theatres! 👏@Sharatkatariya, I'm sure you've outdone yourself again. @AnushkaSharma & @Varun_dvn you both are so honest & real!
Best wishes to Team @SuiDhaagaFilm! 😊#ManeeshSharma @yrf https://t.co/aUHUEkCbXg

— bhumi pednekar (@psbhumi) August 13, 2018
'From impossible to unstoppable'!! Love love love this one, @AnushkaSharma @Varun_dvn @Sharatkatariya👌🙌 You guys are killing it!! #SuiDhaagaMadeInIndiaTrailer #ManeeshSharma @yrf https://t.co/g7CDt2UwaT

— Diana Penty (@DianaPenty) August 13, 2018
This is so so so special! LOVE IT @AnushkaSharma @Varun_dvn ❤️ #SuiDhaagaMadeInIndiaTrailer https://t.co/k520p9ldYd

— Dia Mirza (@deespeak) August 13, 2018
The film is directed Sharat Kataria and Manessh Sharma who have also given us stars like Dum Laga Ke Haisha. Sui Dhaaga is set to release on 28th September 2018.
We are surely going to watch the film are you?