Check out some awesome reasons why we are desperately waiting to watch Veere Di wedding:
Yaayy! May is going to end soon and finally, the most awaited movie of 2018 'Veere di Wedding' will release. The yearlong hype and trailer have got us overexcited for the film, it shatters all the myths that top actresses do not share the screen with other actresses in the lead role. Not that Bebo is back but there are many reasons why we are waiting for the film
The cast
The first reason has to be the cast. When was the last time a movie had fabulous leading ladies sharing screen space and having so much fun? We are waiting to see how they will be setting new friendship goals now.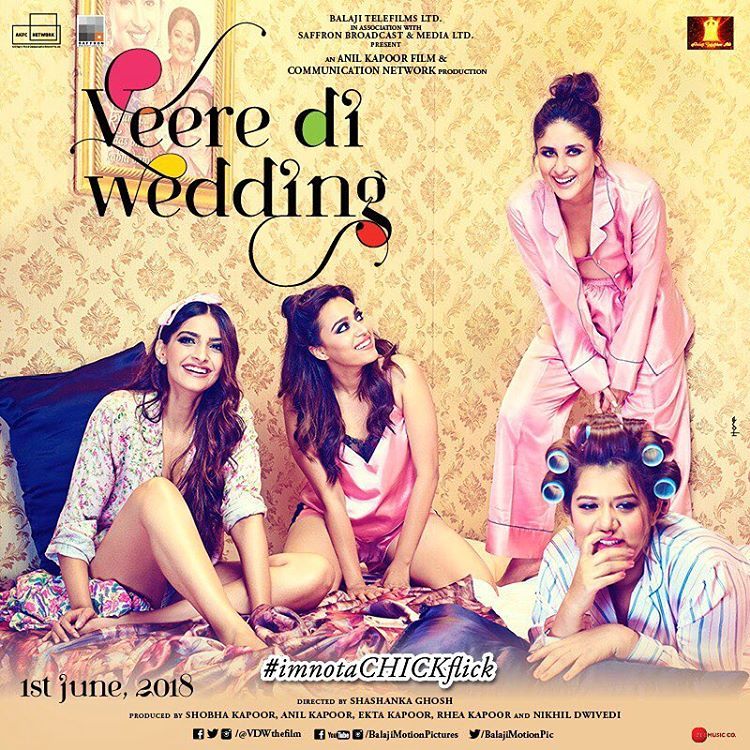 No girl is fighting over a man
Thank god! Bollywood did not use their usual idea of two heroines fighting over boys. In this film, no veeres seems to be fighting over a man.
Four girls are dealing with real issues
One woman is on the verge of divorce, another is living in a sexless marriage for a year and the other one wants to cancel her wedding. So, we are glad that these girls are solving real problems rather than being the perfect ones.
The costumes
We all know that costumes in Veere Di Wedding will be ones to watch out right after looking at the first poster. Every single actress looks stunning. As Rhea Kapoor is also associated with the film we expect some really cool outfits, especially wedding outfits.
They are talking about sex
Sex has always been a taboo in the country but in this film, the girls are having an open conversation on the topic. They talk about orgasms and they do it very normally. Thank you very much and thank god someone is talking about sex in the mainstream Bollywood film.
Everyone has their own storylines
Bollywood is famous for revolving their stories around the lead roles only, but after watching the trailer of the movie it seems like everyone has their own storyline. It appears that effort has been put up to build storylines for all four women.
The Music
The trailer and released songs give us a fair idea of the upbeat and amazing music that the film will have. We are already in love with "tareefan" song. Apart from giving us dance numbers, it will give us new friend anthem also.
Are you also excited to watch this movie???