Student's attempt to build clay Taj Mahal results in hilarious jokes:
Recently a kindergarten teacher at Arlington Public Schools shared a picture of clay Taj Mahal that her student tried to build. She was both surprised and baffled to see result. "So one of the students at my school tried to build the Taj Mahal out of clay and…," she tweeted.
Check out the picture here: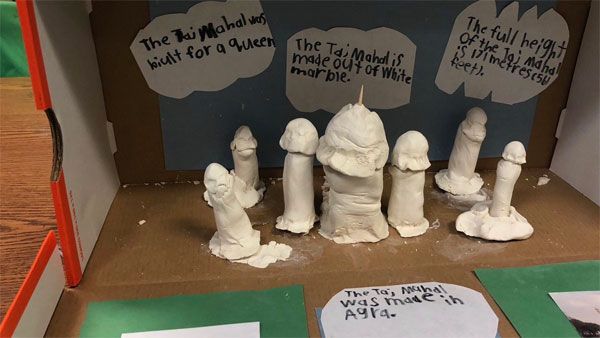 The picture of this clay creation immediately went viral with hilarious jokes and memes lauding the child's creativity. Moreover, some even complimented the student for doing the project without any help.
Check out the people's reactions here:
Anarkali utho, dekho naya tajmahal pic.twitter.com/1Mdg62Ct6Y

— hutabhuk❌ (@hutabhuk) June 24, 2019
'7' wonders indeed.

— Suryank Singh (@suryank1996) June 23, 2019
— टॉक्सिक मस्कुलनीति Raja babu 🌈 (@GaurangBhardwa1) June 23, 2019
I'm actually happy the kid didn't ask for anybody's help and completed his work with self dependence. Honest work. 👏🏻

— सृष्टि (@Srishti__S) June 23, 2019
miniature Taj Mahal "erected" 😂

— Rahul Sengupta (@canonmanrahul) June 23, 2019
A+. Nailed it.

— Liddle Lamzy Dive (@saucissonsec) June 24, 2019
Funny how they always resemble … no, scrap that thought

— Michele McKenzie (@MColvinMcKenzie) June 24, 2019
Um. 😮

Magnificent effort. 😂😂

— Plodding Historian (@lke73_historian) June 24, 2019