Here are some tips to have a romantic weekend getaway:
Every couple needs to unwind and find their hidden spark. If you want to spend some close and cherished moments with your partner plan a weekend away from all the regular activities. A little preparation can make this weekend fun and romantic. Here is how…
Visit a saloon beforehand: Visit the parlor for all your beauty treatments and hair removal treatments at least 24 hours before leaving. Stick to tried and tested stuff to avoid rashes and scars.
Don't take luxurious baths alone: Don't spend hours in the bathroom getting ready for bed, men hate to wait. If you want to soak in the bathtub make him accompany you.
Carry extra condoms: Your weekend will be full of sex so some extra protection never hurts. Plus there's nothing worse than running out of it in midst of a heated session. Try variants like flavored condoms and sex games to add some sensual fun.
Don't get drunk or over-stuffed: On a weekend it is always difficult to resist good cocktails and food but sex on a full tummy is painful. Plus a hangover can surely ruin the romance.
Fulfill your fantasy: Everyone has some secret sexual fantasies. Use this weekend to indulge in one. Don't be shy and encourage him to share his fantasies. Try something you might be hesitant to do at home.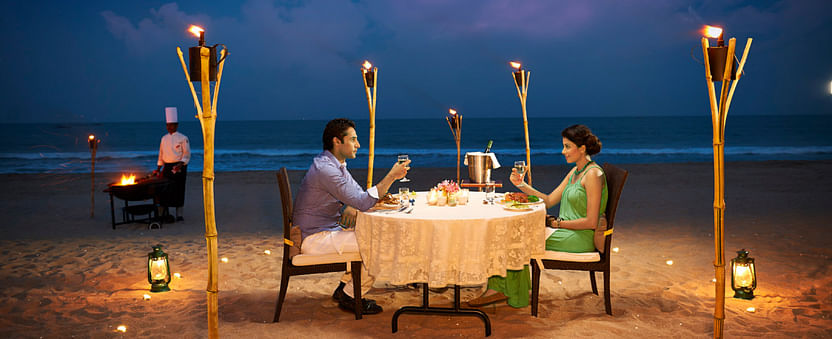 Candlelight dinner: opt for a candlelight dinner for your partner, surely it is going to be a great experience for both of you. enjoy the weather, delicious food, and each other's company.
Banish phones and laptops: The purpose of the trip is to spend some time together away from mundane activities, especially work. Stay away from all interruptions and disturbing elements. Record a voicemail message and reply to the important ones later.
Sexy dressing: Pack your sexy lingerie and dresses (the ones you invested in during your wedding shopping). Say goodbye to the boring outfits and try on your naughty underwear and brassiere.