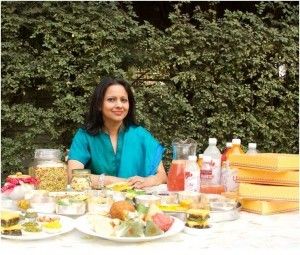 Every woman has a story to tell. Most women strive to balance their personal and professional lives and attain their dreams.
Most Indian women are attuned from childhood that cooking is essential. But what happens when a housewife evolves that cooking and becomes a food expert? Read on to know the story of  food expert Bharti Sanghi, who started her business from the kitchen and now has an independent  food processing unit.
How did it all start for you. From a family oriented woman to the transition into an entrepreneur? 
I like experimenting with food. My upbringing and marriage into a traditional Marwari household yielded a wealth of knowledge imparted by my mother, mother-in-law and relatives. What started out as a personal passion, found a lot of appreciation among friends and family who were always ordering specially prepared meals, pickles and beverages.
Many women are into this business but they operate from home. What inspired you turn it into a big venture?
I operated from my home earlier but when I started getting orders in bulk I decided to set up a Food Processing Unit in Okhla. It has been eight years now and recently we have come up with an integrated facility at Sahibabad (U.P) which has its own dedicated R&D unit, to ensure the quality'Life' products.
Do you have profession chefs too in your team?
Yes, we do have professional chefs but initially we give them training for close to 8-10 months to maintain the quality and taste across all products.
How do you introduce new dishes and flavors? Are your recipes inspired from someone?
I experiment and infuse fresh taste to the traditional delicacies. In the free time.I think which flavors can be introduced to traditional mithais or how can I work more creatively on the presentation of food. 
How do you decide on the pricing?
We have designed our menu at very affordable prices
Do you think food and quality rules are up to the mark in India?
Yes,the rules are very much up to the mark. We do follow the FSSAI and ISO norms which are now very predominant in India
How do you manage to beat commercial and big brands and their pricing in the market?
I always believe in providing good quality food which is easily available in market but people come back to us because they really like the food offered to them. I don't believe in competition.Commercial brands operates at a different scale altogether.
 How do you advertise your products?
I have  never advertised  but have always received word of mouth publicity for my food.
And your clientele?
I have varied clients. There are a few corporates in Delhi and NCR where we cater food on a regular basis and at the same time we have clients who make bookings for weddings, special occasions or a small get together at home.
What kind of response do you get for the take away meals and do you supply in offices too? If yes, what kind of recipes do you add in the thali and are they fixed?
We have got a very positive response for the take away meals from all our customers. Yes, we do supply food in lot of offices but we customized it according to the preferences. We have lots to offer in every cuisine from rajasthani, gujrati, maharashtrian to north Indian.
What are the best sellers?
We get maximum orders for Rajasthani and Gujrati thalis.
Tell something about the diabetic sweets and juices range and why a diabetic range? Have you introduced some different sweets and juices too?
Many a times I used to get orders for sweets with less sugar and I realized the need to prepare sweets and beverages with less sugar. We use sucralose which is very safe and an accepted sweetener worldwide to develop the diabetic range like RTS Sugar free Nimbu Pani and mithais like kalakand, phirni, rabdi, chandrakala.
Any message for today's working women?
 Just believe in yourself and all your dreams will be fulfilled.