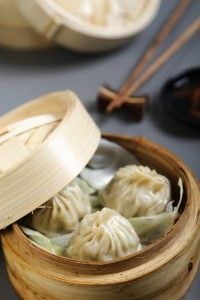 Fat Ninja, a  Pan Asian cafe is back with its tongue tickling treat. The flavor of the month is the Dimsum & Beer fiesta. Chef Bikram Pradhan has crafted a variety of non-vegetarian and vegetarian dim sums. The menu includes pork & onion, chicken & celery, spicy crabs, prawns, Tofu, veggies, soy, eggplant, Pokchoy & Mushrooms.
Chef has created  a repertoire of vegetarian Dim Sums like Vegetable Sui Mai, Vegetable Kothe and for the non-vegetarians Chicken Sui Mai, Prawn corn dumpling , Harkao, Prawan Hakau, Lumpia , Pork Sui Mai ,which can be enjoyed with an array of sauces like Mint Coriander Dip, Chilli Bean, Tomato Chilli, Chilli Vinegar, and Ponzu.
Just have a dim sum time at Fat Ninja Cafe.
Address – 26, Hauz Khas Village, New Delhi.
Contact  details: 97 11 993266
Meal for two : Rs.1200