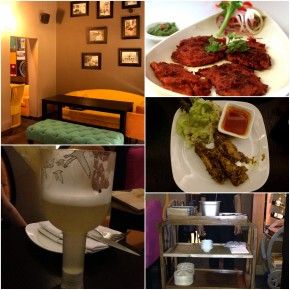 Khan Market is a foodie heaven in Central Delhi. But good Indian food is still hard to be found in Khan Market. So, on a dinner to Khan Market we decided to check out a newly opened place Trolleys.
Trolleys is located in the middle name right opposite Urban Cafe. It is a two floor restaurant. The first floor is a beautiful fine dining restaurant; the second floor has good music, hookah and a lounge zone. Trolleys is uniquely named after their concept of serving one dish in a trolley. The trolley of the day changes daily. On the day we went it had soft, juicy Dahi-bhallas.
Trolleys is a restaurant with a heart and uses sustainable and recycled material. Their glasses are made from old liquor bottles. The lights are made of recycled bottles.
Food: It is one of the select multi cuisine restaurants. Since Khan Market doesn't have many Indian options we were excited to try some unique Indian offerings.
Price: The place is reasonable priced and the serving size is perfect.
Meal for Two: About 2000 INR (including a glass of alcohol).
Ambience: Trolleys has a very chic decor with a yellow and grey theme on the first floor which is a sit down restaurant. The first floor is a perfect family environment place, the kinds you can go with your parents or children. To enjoy with friends the second floor with its huge balcony, loud music and dim lights is perfect.
Must Try: The menu is elaborate and offers a lot from Indian to Italian and everything in the menu is tempting enough. We loved the Pathar Ke Kebab they are rich ultra soft mutton kebabs which melt in mouth. My personal favourite starter was the Grainy Mustard Glazed Chicken Wings that are coated with mustard seeds which provide a bite to the succulent chicken and honey sweetens them. A perfect combo!
The drinks deserve a special mention we had a Pineapple martini. The cocktails at Trolleys are made with fresh juice which provides a refreshing flavour to the cocktail. Plus it doesn't taste artificially sweet.
For the main course, we tried their famous Nihari Gosht which they describe as 'a old popular delicacy, also called the "national dish of Pakistan". It marks its origin in old Delhi during the 18th century. Lamb morsels cooked with stock and brown onion. Secret spice mix.' Now we expected it to look like traditional Nihari overly spicy and topped with oil but the Nihari was anything like the versions we have had earlier. The Nihari at Trolley's was a smooth gravy with the right spices (not overboard), rich, decadent and with mouth melting mutton and not a trace of oil on top! Heaven! Their Dal Makhani is as good as the famous Dal Makhani's of Delhi.
For sweet dish, we had Shahi Tukda which was a perfect way to end our dinner.
PS, They do great hookah's upstairs though we aren't hookah lovers so skipped them.
Rating: 5/5
Would I visit again? Yes, especially for their cocktails, Nihari Gosht, Dal Makhani and an evening to chill with friends.