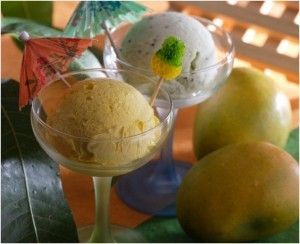 Indulge in some 'aamsutra' fantasies as Gelato Vinto is all set to make your summer more exciting than ever by celebrating the king of fruits. It has come up with  month long Mango Festival that offers seven exciting mangolicious flavors of the Italian dessert.
Alphonso Mango: It contains handpicked Alphonso Mangoes for that real taste of the fruit.
Alphonso Mango Bite: Alphonso Mango Bite is home-ripened mango gelato, with small pieces of mangoes.
Mango Swirl: Mango Swirl is delightful alphonso, layered with vanilla pod gelato.
Mango Cheese Cake: Mango Cheese Cake has smooth and silky mascarpone cheese gelato layered with alphonso mango gelato and egg less vanilla sponge cake.
Mango Sorbet: Its smooth and silky puff zing is enough to make you sing.
Mango Yogurt: Mango Yogurt is high in vitamins, minerals and antioxidants combined with rich probiotic yogurt.
Sugar Free: It's a 'no guilt' dessert, fine-tuned for weight watchers and diabetics.
Prices : Rs. 89 onward
Venue : All outlets – Select City Mall , Ambience mall- Gurgaon , Pacific Mall Subhash Nagar , Pacific Mall Anand Vihar , DLF Promenade , Great India Place – Noida , DT mall Shalimr Bagh , Defense colony.