Dominos is a popular pizza delivery chain in India and recently they have introduced two new pizzas. Two days back I had their innovative dessert pizza and I must say it was heavenly. The new choco pizza is for all the chocolate lovers as its a delectable combination of choco-brownie, choco cookie, cheesecake and nougatine topped with choco sauce over a thin crust base.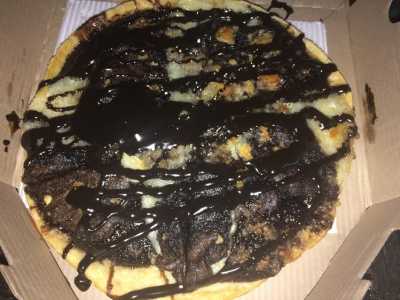 Priced at INR 199, it comes in regular pan size but unlike the normal pizzas it can easily serve two to three people as its loaded with chocolate in different forms. The crust is made up of a cookie which makes it even more yummylicious.
Delivery: Since it's a dessert pizza so it can delivered easily as a  main order.
Is it worth the price: People who have a sweet tooth and love chocolates won't find it expensive.
Is it vegetarian: Yes, even the vegetarians can relish it.
Ways to have it: You can have it in multiple ways like after your meal, with a cup of coffee or whenever you need to lift your mood.