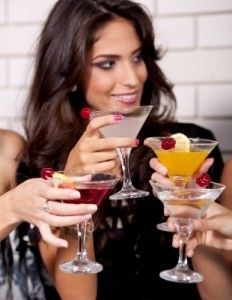 With Diwali around the corner,make these fabulous cocktails on a girls night or card party and name them after your friends.
Vodka strawberry soda (name it on a friend who is girly or loves pink)
Ingredients:
30 ml vanilla flavored vodka
Club soda
Ice
2 tablespoons Hershey's strawberry syrup
Method:
In a tall glass, mix strawberry syrup with vodka.
Add ice and top it with soda.
Garnish with a cherry.
The orange bar (for a friend who is always on the run)
Ingredients:
An orange bar ice cream (or any other flavour)
30 ml vodka
A wine glass filled 3/4 th with ice
Method:
Place the ice-cream bar on the ice bed.
Carefully pour the vodka.
It works better if the ice cream
Masala rum (for that moody friend)
Ingredients:
30 ml white rum
Limca
1 teaspoon chat masala
Ice
Method:
Add white rum and chat masala in a glass.
Add lot of ice and top with Limca. (be careful as it will fizz)
Garnish with a sprig of mint leaves.
Aam shot (for that wild one!)
Ingredients:
Pulp of a mango (blended and strained)
A pinch of salt
Some salt
Maaza or any mango drink
Vodka as desired (aprox 60 ml for 3 people)
Tequila (30 ml)
Ice
Method:
In a cocktail shaker add 3 cubes ice, mango pulp, salt and shake.
Now add the remaining ingredients and shake.
Strain and pour in shot glasses.