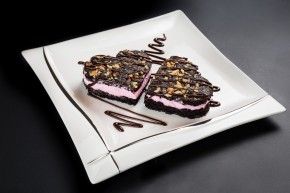 How about impressing your partner with gooey yummy chocolate brownies that spell sin this Valentines Day? Here's a super easy recipe by Cremica:
Ingredients
150 ml /3/4 cup) water
100 gr (1 cup) Cremica chocolate syrup
100 gr butter
100 gr (1/2 cup) sugar
5 ml ( 1/2 tsp ) vinegar
30 gr (3 tbsp) cocoa powder
160 gr (1 1/2 cup) maida
5 gr (1/2 tsp) baking powder
100 gr (1 cup) chopped nuts of your choice(optional)
Method:
Grease a 6 -7 inch baking pan with butter and dust lightly with flour. Melt the butter in a pan and add the chocolate syrup.
Remove from heat and pour in the water-sugar and vinegar. Stear well till sugar is dissolved. Sift all dry ingredients together and stir into the chocolate mix.
Pour into the baking pan-sprinkle the nuts on top if desired and bake in preheated oven at 150 c till an inserted skewer comes out clean. Let cool down before removing from molds. Cut heart shape cake of your choice and slice the in half for filling.
Filling
200 gr (2 cups) fresh cream well chilled
1/2 cup of Cremica Strawberry syrup
1/2 tsp gelatine
2 tsp water chilled
Sugar as per taste
Dash of vanilla
Soak the gelatine in the chilled water fo app 10 min till fully blossomed. Meanwhile whip the cream till stiff.
Warm the gelatine on low flame till melted. Remove and add the strawberry syrup. Let cool down till starts setting and fold in the whipped cream spread on the bottom part of the brownie heart and cover. Chill well in the fridge till ready to serve.