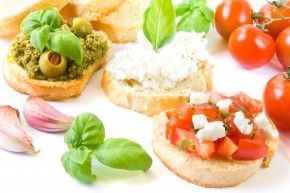 Bruchetta is the best starter for any party. Make these yummy dill and cucumber ones when you invite your friends. We suggest you pick up these ingredients and chop, peel them beforehand. When your friends arrive toast the baguette and apply your pre-set ingredients.
Ingredients
•             200 gm package cream cheese
•             Softened 50 gm feta cheese
•             Baguette, cut into 1/2 inch thick circles toasted
•             1 cucumber, sliced as thin as possible
•             2 tsp chopped dill
Method:
 Take the toasted baguette and apply mix of cream cheese and feta cheese.

Lay down thin slices of cucumber.

Garnish with dill and pepper.

Serve with some white or red wine.
Recipe by Chef Joshua D'Souza, Silverspoon Gourmet