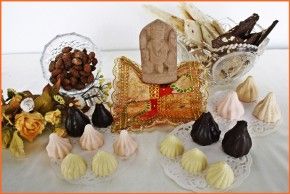 Ganeshotsav brings with it 10 days of pomp, splendor, celebrations, delicious food and perhaps, most importantly, mouth watering modaks. With the ongoing auspicious occasion Silverspoon Gourmet gave an innovative twist to the traditional modaks and shared a super easy and yummy peppermint and chocolate modak recipe with AAW.
Ingredients:
2 Cups Ricotta Cheese
1 Cup Sweetened Condensed Milk
 ½ Cup Semi-Sweet Chocolate Chips
1 Tablespoon Unsweetened Cocoa Powder
2 Teaspoon Peppermint Essence
Modak Moulds
Method:
Heat up a heavy bottomed pan till it is at medium heat.
Add the ricotta cheese and cook for 6-8 minutes, stirring constantly.
As the ricotta cheese starts thickening, add the condensed milk to the pan.
Cook the mixture for an additional 4-5 minutes stirring constantly.
Add the chocolate chips, cocoa powder and peppermint essence and immediately turn off the heat.
Stir well to ensure all the ingredients are mixed evenly and properly and the chocolate chips have melted.
Set aside and allow to cool till the mixture becomes cool enough to touch,
Once cooled, stuff the mixture into the modak moulds and refrigerate for some time till the moulds are set. An hour to a few hours will be fine.
Once set, remove from moulds and serve.
Some useful tips:
In case you are not able to find ricotta cheese at your local store you can just as easily use regular store bought khoya.
Instead of using modak moulds, you can try to shape the mixture to look like a modak or simply shape it into small balls and serve them like pedas!
Recipe shared by Silverspoon Gourmet.