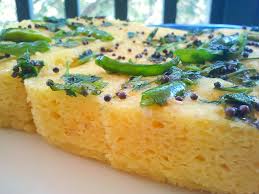 This popular Gujrati dish is high on taste, low on fat and very easy to make. As the weekend is approaching try this simple and quick dhokla recipe for breakfast or evening tea and hear your family praise your cooking skills! Here's the recipe for Khaman Dhokla:
Ingredients
• 1 cup Besan (Chickpea Flour)
• 2 tablespoon Sooji (Semolina)
• 1/8 teaspoon Turmeric Powder
• 2 teaspoons Sugar
• 2 teaspoon Lemon Juice
• 1/2 teaspoon Ginger-Green Chillies Paste
• 1 teaspoon Eno Fruit Salt
• 1 cup Water
• Salt, to taste
Ingredients for seasoning
• 1 tablespoon Oil
• 1/4 teaspoon Mustard Seeds
• 1/4 teaspoon Sesame Seeds
• A pinch of Hing (Asafoetida)
• 3 tablespoons Water
• Chopped Coriander, for garnish
Method
Take all dry ingredients (except Eno) for Khaman in a bowl and mix them well. Add water gradually to make smooth batter of pouring consistency taking care that there are no lumps present.

Now grease a deep microwave proof dish (or baking tray) with 2-3 drops of oil.

Add eno fruit salt to batter and whisk it for 2-3 mins to make the batter fluffy.

Pour the batter into to the greased dish and cover tightly with cling wrap.

Microwave it on high for 4-5 minutes and take it out and remove the cling wrap. Allow it to rest for 5 minutes and then cut the dhokla into square pieces when cool.

Transfer all the pieces to serving plate/bowl.

Heat oil in small pan; add mustard seeds. Once it starts spluttering, add sesame seeds and asafoetida to it. Turn off the heat and add water.
Pour this watery seasoning over all khaman evenly. Garnish with chopped coriander and it's ready to serve.
Recipe and picture by Haveli