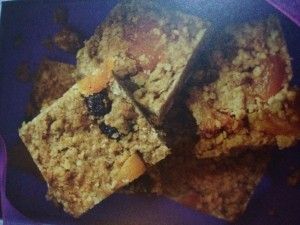 Ingredients:
100 gm of soft dried apricot,roughly chopped
100 gm of mixed dry fruit
50 ml of orange juice
100 gm of olive oil
150 gm of whole meal flour
150 gm of rolled oats
1/2 teaspoon of finely grated orange zest
150 gm of brown sugar
Method
Pre heat oven to 170 Fahrenheit and line the baking tray with baking parchment. the size of the tray should be 9*12 inches.
Mix the apricots in a bowl with orange juice and leave to soak for some time.
Put oil in a separate large bowl along with the flour, oats and orange zest. Rub all the ingredients together by hand into a crumb like consistency and stir in the dark brown sugar.
Drain the orange juice from the apricots and stir the fruit and other dried fruit into the oat mixture.
Tip the mixture in the prepared baking tray pressing it down into the base and the corner of the tin.
Bake for about 25 – 30 minutes of until golden in color. Then remove it from the oven and allow it to cool in tray before cutting it into slices.
Variation:
To make these crunches extra special, try drizzling about 30 gm of melted chocolate (prefer white chocolate) over the top of the cooked mixture and allow it to set before cutting it into slices.
Recipe by : Dessert Carte