'Badhaai Ho' trailer is an absolute laughter riot.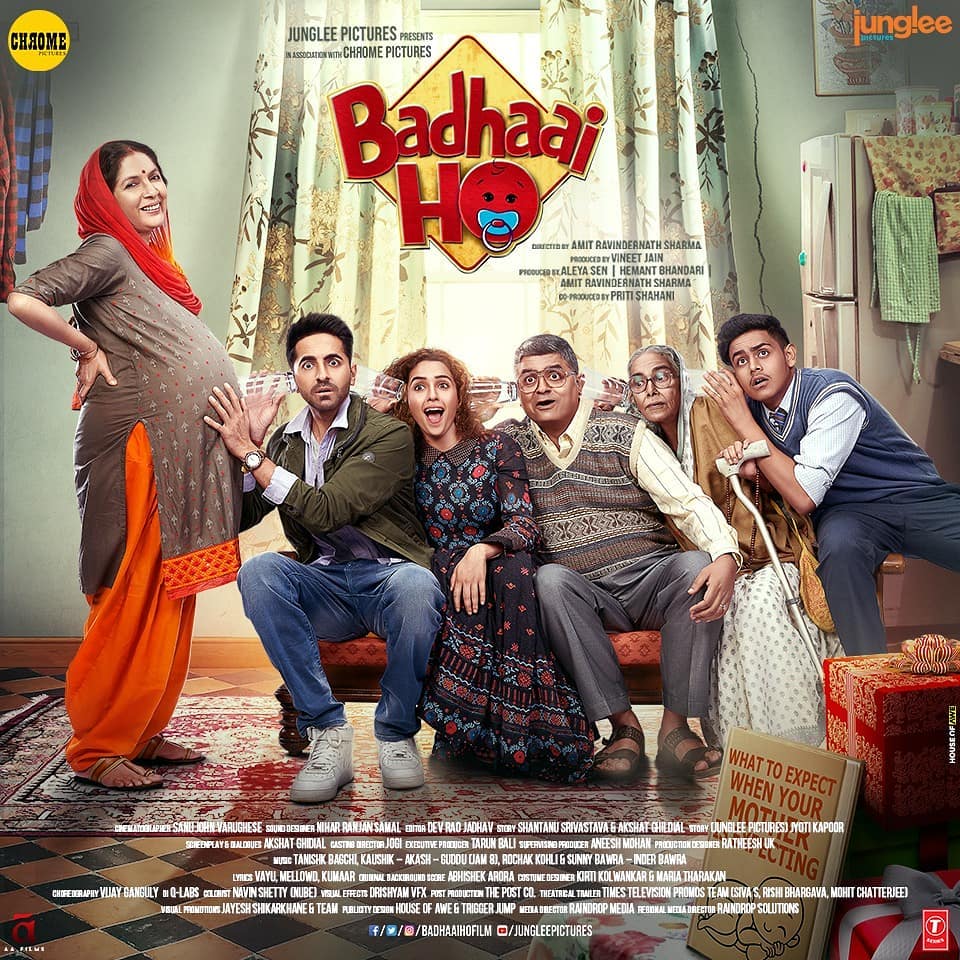 The most important thing that people expects from almost every movie is entertainment. Every year many comedy movies  bring smile on the faces and this year the  trailer of 'Badhaai Ho' is making everyone go crazy. The film stars popular actor Ayushmann Khurrana and Dangal's lead actress Sanya Malhotra. The best part that is making everyone so excited about 'Badhaai Ho' is its exceptional concept and the unfolded comedy. The film is based on the situation and embarrassment that a typical Indian family faces when an elderly couple conceives by mistake.
Surekha Sikri is playing the role of Grandmother, Neena Gupta and Gajraj Rao as the aging parents-to-be, Ayushmann the elder son and Sanya the girlfriend.The trailer has been released and a lot of people took to the social media to appreciated the humorous and unique content of the film. Along with the public, even the Bollywood celebs came forward to praise the actors and director for such a wonderful and full of fun trailer. The film will hit the theatres on October 19.
Watch the trailer here:
Check out the reaction of Bollywood here:
#BadhaaiHo @ayushmannk @sanyamalhotra07 @raogajraj #neenagupta maam ,this is too good.Well done AK,tumhare toh 2 bachche aa rahe hai 🙂 Am damn excited,this is Just too cute ❤️ @JungleePictures @ChromePictures 🙏🏻 https://t.co/h5w91kSSFr

— bhumi pednekar (@psbhumi) September 11, 2018
What a concept and trailer. Blew it out of the park! Can't wait to watch…#BadhaaiHoTrailer @ayushmannk @sanyamalhotra07 @CinemaPuraDesi @raogajraj @Neenagupta001 https://t.co/mWaQrT8eUg

— Anushka Sharma (@AnushkaSharma) September 11, 2018
Badhai ho !! If this film is one fourth as interesting as it's promo , then we are going to watch an extremely interesting film . All I have to say to the cast crew and the producers is Badhai ho !!

— Javed Akhtar (@Javedakhtarjadu) September 11, 2018
Kya trailer hai !!! Died laughing 😂😂😂 too much fun https://t.co/sEpjOul9cX

— Huma Qureshi (@humasqureshi) September 11, 2018
What a super trailer Amit Sharma 'Badhaai Ho' Official Trailer | Ayushmann Khurrana, Sanya Malhotra | Dir… https://t.co/a8SPjlRotR via @YouTube So much fun

— Anurag Kashyap (@anuragkashyap72) September 11, 2018
Hilarious !! Can't wait to watch this laughter fest @ayushmannk @sanyamalhotra07 @Neenagupta001 @raogajraj @JungleePictures @Sen_Aleya #BadhaaiHoTrailer https://t.co/KL3Vf4c9yw

— Saqib Saleem (@Saqibsaleem) September 11, 2018