Netflix lover? Check out these shows you must watch
Sick of the usual television shows which have nothing to offer except saas bahu controversies? Well, there are a lot of good Netflix original series that are definitely worth investing your time in. If you are trying to figure out what to watch next, then here is a guide to the shows that you should watch to literally #NetflixAndChill!
The Unbreakable Kimmy Schmidt
One of the major hits on Netflix. The show is about a woman who starts her life over again in New York after being rescued from dooms day. The struggle starts when she tries to adjust the outside world. The show is hilarious and displays how amazing life can be.
Orange Is The New Black

The American comedy drama that runs in the flashback where a woman is convicted of a crime and sent to the prison for a year and a half which changes her life. With successful five seasons, viewers will surely have a wonderful laugh. The show has proved to be good in every sense.
BoJack Horsemen
This is one of the best and underrated series of Netflix where anthropomorphic animals and humans live side by side. It shows the life of an ex-celebrity horse who has turned alcohol due to his fading fame. The gags and storyline will surely keep you engaged.
Master Of None
The show revolves around a romantic, cultural and professional actor of 30-year-old, Dev Shah in New York. This show is a perfect comedy and melodrama that deals with online dating. This is a semi-autobiography of Ansari conveying his own experiences as an Indian-American in the world of American show business.
Stranger Things

The story is about a 12-year-old boy who goes missing in a small town of Hawkins. His mother, friends and a police chief encounter certain challenges in order to get him back. The series gets exciting with each episode as the mystery gets darker and deeper which makes it a must watch.
House Of Cards

House of cards is surely an addictive show with amazing plot twists and surprises. The show is a political thriller about a congressman and his wife who will do whatever it takes to take revenge and achieve whatever they want. The show is a bit better than the rest which makes it a must watch.
Narcos
It portrays the historically true story of drug wars of Colombia. The story revolves around the drug lord, Pablo Escobar who is good at being bad. The thrill, mystery and contemporary fictionalization will surely won't get your eyes off.
Jessica Jones (Marvel's Jessica Jones)
The show is about Jessica Jones a former super hero who opens her own detective agency to rebuild her life as a private investigator dealing with cases in New York. The series is dark, brutal, more grounded and redefining how amazing a comic book show can be.
Daredevil (Marvel's Daredevil)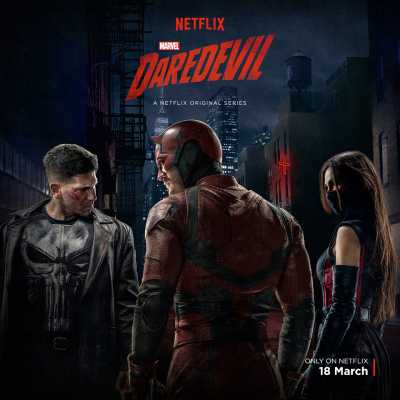 Another show based on Marvel comic with complex characters. The show revolves around a blind lawyer by day who fights crime at night. It is violent, complex and twisted and all better. The show is perfectly written, shot and choreographed. It is a series that you certainly need to watch on Netflix.
13 Reasons Why
The show is about a teenage girl who takes her own life leaving 13 tapes as to why she took such a step. Each tape is directed to a particular individual responsible for her decision. It's a heavy series that involves drama, heartbreaks, an ocean of emotions and everything. The second season of the show is much awaited.
Happy Watching!