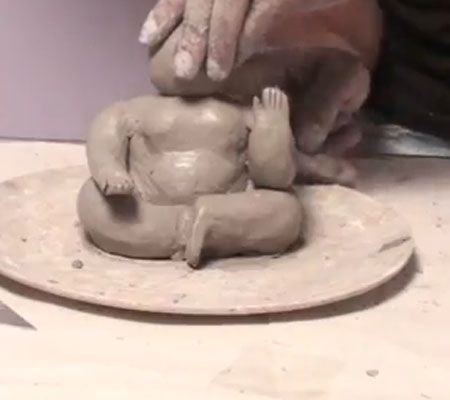 This Ganesh Chaturthi save the environment, get eco friendly and shun the plastic of paris made ganesha idols. These idols cause pollution so up your creativity skills and make your own eco-friendly Ganesha. Team AAW tells you the quick and easy way to make the prettiest idol at home. Bring out the clay and get ready for all the compliments that will come your way.
 Material required
Any Ganesh's idol picture (pick a simple one, this is for reference only)
Clay
Natural and herbal painting colours
Brushes
Aluminum foil, stones and hand-made paper
Glue
Small pieces of clothes (or pick some zari from the market)
Method:
 First look for an image for reference.
Buy some clay from the market depending on the size of the idol. You can also go for garden mitti and mix it with water to make clay. Also if you want mix plaster of paris in water and fevicol mix.
For the skeleton, make two round structures, one for the head and a bigger one for the body. After the skeleton is made, make five lengthened rolls two legs, two hands and a trunk.
Create small balls of clay and flatten them like ears. Add character to them with a help of a matchstick.
After all the body parts are ready the next step is to compile them. On a flat surface (take a decorated plate or cardboard) place the bigger round structure attach the smaller one above it. Stick the ears and trunk on the face (the smaller ball), hands and legs on the body (the bigger ball). Once you stick the hands flatten out one hand to make the palm. You can use water to stick clay. Also add details with the help of a matchstick and a small sharp knife.
The rough figure of Ganesha is ready. Make the shape of the idol look neater and sharper with a help of a brush. Keep it outside to dry. Avoid keeping it under direct sunlight.
If the parts break paste them with glue.
Decorate Ganesha according to the picture or bring out the hidden artist in you and show your creativity. Make sure the idol is dust free and smooth before painting.
Draw or using a toothpick/ pencil engrave the eyes, fingers, tilak and other features.
Stitch small clothes or colour the idol with natural and herbal painting colours. Avoid using chemical acrylic paints.
You can make crown and other items found on Ganesh idol using aluminum foil stones, hand made paper or other eco friendly items.