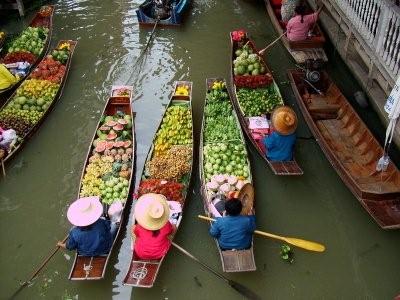 Bangkok has a host of markets which boast from high end stores to amazing fashion at throwaway prices. Here is a list of markets you must cover in Bangkok.
Chatuchak market: This weekend market has great deals on clothes, crafts,  home decor and anything and everything that you can think of. It is a huge market so try to reach early by 10 am so that you can explore the maximum by 6 pm.  Do sample some of Thai street food here. So, the best advice is, if you are going for the first time, to pick a starting point then just follow your instincts, enjoy the experience and bring home your exciting new finds.
Siam Paragon: This luxurious mall has glittering hi-end brands like Hermes and Louis Vuitton. It also has a Madam Tussauds and aquarium for kids.
MBK Center: MBK has been synonymous with Bangkok shopping. Visit this huge 8 story mall for everything from shoes to makeup. PS You can find great souvenirs here. Bargaining is expected in this mall, so do not buy anything according to the price tag.
Platinum Fashion Mall: This mall is every fashionable girl's dream come true. The mall has floors of girly things right from shoes, lingerie, clothes, accessories, makeup!  It has the latest fashions and amazing discounts. The best way is to buy wholesale. The rates get slashed by half almost!
Traditional floating market: Bangkok is a union of old and new, from chic malls to traditional floating markets. The Taling Chan floating market is located some 100 kms from Bangkok. Go early in the morning to enjoy the experience.You will get everything that is available at rest of the markets in Bangkok but it's a must visit for a great experience.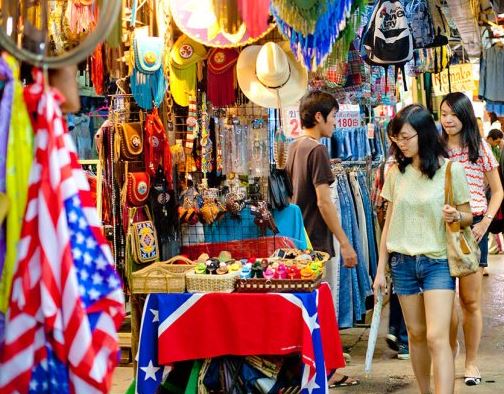 Patpong Night market: This market opens only at night and boasts of amazing designer rip-offs at throwaway prices. You will get everything from first copy bags to watches, souvenirs, T-shirts, Thai silk scarfs and much more.  Right next to the market are some clubs where you can enjoy some sex shows too.
Indra Square:   Also known as Pratunam market by the locals this mall has everything to offer , from fake I-phones to cosmetics to clothes , footwears, clips  and much more. The variety is huge and bargainning is open though some will offer you whole sale rates on purchase of three or more items.