Check out all the details about Ferrari World Dubai:
Ferrari World in Abu Dhabi is one of the top tourist destinations attraction in Dubai. Almost everyone who goes to Dubai, visit Ferrari World. It is the world's first Ferrari-branded theme park is also home to the world's fastest rollercoaster. The theme park has been named "Middle East's Leading Tourist Attraction" in 2015 & 2016, and "Middle East's Leading Theme Park" in 2017 at the World Travel Awards. So fasten your seat belts, here is every detail that you need to know about the park.
Here is your guide to visit this theme park.
Reasons to visit the Ferrari world?
Ferrari's world is one of the best and most famous companies in motorsports. This theme park provides a firsthand experience of the awesomeness that the flag of Ferrari holds.
Do not miss a ride in the world's fastest roller coaster that goes at the speed of 250 km/h in just 4.9 seconds. The ride will begin with the help of hydraulic launch which will resonate with the speed of the planes which takes off from the carriers of the aircraft.
Do you like the idea of racing? You can experience this by taking part in one of the greatest racing competitions. Take part in the Fiorano Challenge and get a lifetime experience.
You can buy authentic merchandise at the world's largest Ferrari store.
You can enjoy and take part in daily events such as fun, live shows, electric go-kart racing and much more.
Enjoy delicious Italian cuisine at the best Italian restaurants. Some places to eat at: Espresso Rosso, Mamma Rosella, and officers' food quarters.
Rides to take at the park:
This is the fastest rollercoaster that we were talking about. It slams you down from heights of 52 meters at speed of 240Km/h in just 5 seconds.
This is the world's highest roller coaster. This ride is exhibited after a legendary aviator called the Count Francesco Baracca. Flying Aces will take you to heights of 63 meters at a staggering 51-degree incline that is sure to make anyone's heart race.
For people who want a realistic digital experience of driving around a formula 1 car the Yas Marina Circuit, this is the experience to take.
Compete with your friends on the parallel tracks modeled after a real GT racecourse in the very own Ferrari F430 Spider. Enjoy the twist and turns and the spirit of competition on this very realistic racecourse, where you can go to speeds up to 94 km/h!
Entertainment experiences to take: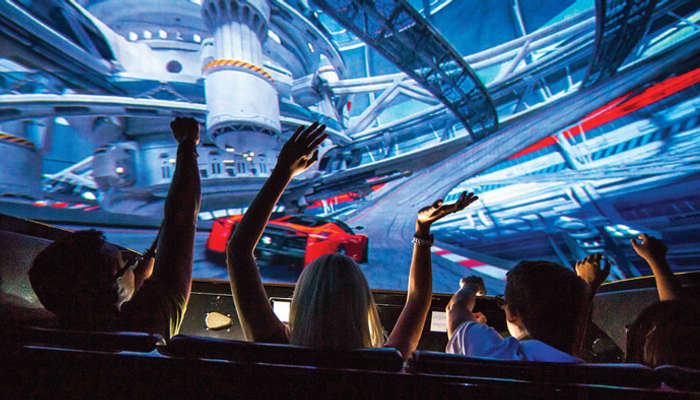 Made in Maranello
Tyre twist
Junior grand prixx
Galleria Ferrari
Address: 101B Abu Hail Road – Dubai – United Arab Emirates
Ticket: INR 10,000/- approx. for one person
Note: As it is one of the most visited sites in the country, make sure you book your tickets in advance.