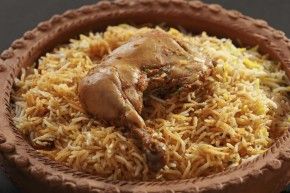 Do you wish, your office colleague from old Delhi invite you over Ramadan to savor the recipes prepared and plated by his Ammi. The wait is over!
To tickle your taste buds with authentic flavours from Dilli 6 streets, DeeZ Biryani have launched special, non veg "Dilli 6" biryani for all the biryani lovers. The biryani is fragrant And each strand of rice stands out.
Relish "Deez Dilli 6 Non Veg Biryani" at just Rs. 275/- for a mini meal with authentic flavours which is rich with healthy ingredients like Cinnamon, Green Cardamom, Curd, Green chilli, saffron, chicken, egg and other herbs and spices.
The Veg biryani is loaded with vegetables, soya granules, and paneer.
It is served with curry, mirch ka salan, onion and chutney.
Available at: All Outlets of Deez Biryani | Kebab | Curry, Delhi/NCR