Anmol Rodriguez, a Bigo Live host & an acid attack survivor is motivating many lives on Bigo Live!
We always seek stories of strength to spark the fire within us, but seldom do we applaud the ones who emerged through the most brutal conditions and still remain humble and inspiring. One such story that has helped many young people find confidence in their own abilities is of Anmol Rodriguez, who met with a tragic fate when she was just 2 months old as her father threw acid on her mother.
Anmol, who was too young to comprehend such brutality, was sitting in her mother's lap and was left with a disfigured face as the acid splashed on her too. She was later transferred to an orphanage where she grew up and fondly pursued her passion. We had the pleasure of interviewing Ms. Rodriguez and she shared with us how she got through the tough phases of her life and emerged as one of the top fashion influencers in the industry.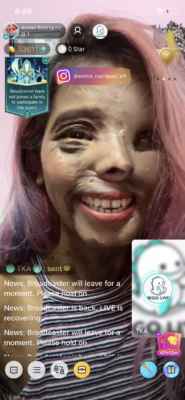 Going through so much at a young age must be tough so what kept you going. Please tell us about a few challenges you faced in your childhood?
I was just two months old when my father threw acid on my mother, who died from the burns. I was on her lap, & since then left with a disfigured face, permanent scars. Due to this, my dad was sent to Jail. Since then no relatives came ahead to take responsibility. Recollecting my childhood, I did not face any inequality and much of struggle and spent most of my days in an orphanage. But the major struggle started after schooling days got over, and I was about to enter college. In college, I started facing ragging and discrimination, and I clearly remember that nobody wanted to be friends with me. Gradually, post-college, I wanted to look for jobs but faced struggle there as well. I was always good in studies and cleared IQ test very well. But still during interviews and while meeting people I was constantly judged for my appearance.
What do you think are the primary reasons for acid attacks in India. And how do you think can these causes be decreased?
Thought there can be any reason but the most common ones are
Over domestic violence

Out of extreme jealousy / insecurity / Rivalry

Land disputes / domestic disputes

A rejected marriage proposal or relationships
These can be decreased by :
Social Awareness: We have to focus more on social changes because we believe only law & enforcement can't stop these crimes. These crimes are often called as 'passion crimes' as it happens out of passion. We need to stop that via social awareness, and most of the times family members, colleagues, or friends of the victims are involved. 
Strict Law & enforcement: Extreme punishments laws should be in place so that any person who thinks about committing this crime should be afraid to do so
 While we loved Chhapaak but do you think Chhapak did justice to acid attack victims? How?
Chhapaak did not do much justice to the acid attack victims.

Yes, I am glad that somebody picked this topic, made a movie, and created awareness about this heinous crime but that is it. 

The movie did not bring out the real-life issues of the acid attack victims and it is more promotional in nature and less realistic. 

Particularly the sequences of "How does an acid attack survivor faces society's pressure/disgrace, how hard one has to prepare herself mentally / and 'accept that now my face is going to look this way and that did not come out properly.

How one acid attack survivor has to fight for her own rights to get a job and various job struggles/inequalities at the workplace / hard to make friends: such realistic issues were untapped in the movie. 

How hard is it for one to get married and that wasn't shown in the movie. 

Even if an acid attack victim has high IQ and has a lot of achievements to their name but isn't stereotypically pretty then society doesn't bat an eye. 

All these were practical issues that were not addressed. 
Though there is comparatively an increased awareness about acid attack victims; do you (or other) still face discrimination?
Yes, there is now more awareness of acid attack victims. But

I feel now the attitude of people have changed a lot & they have become more accepting & welcoming. Though

Beauty and lifestyle brands are still  the same.

I am also into modeling and feel that  till date beauty brands would opt for a beautiful face over a beautiful personality for promotion of their products.

Talking about Bigo Live, where I impart motivational sessions to my fans and followers, frankly speaking, I have faced no discrimination or negative comments on my face. I have seen audience supporting me. Here people see my real-time personality, they interact with me and they actually want to connect with me.

This makes me even stronger and I have accepted my own skin now and I had come to terms with it, long back.
What inspires you the most in BIGO LIVE?
The live audience inspires me the most.

I feel motivated after knowing that people actually look up to me and wait for my broadcasting session and for me to come online.

I have been doing Q/A sessions with my followers and I get a pretty good response.

At times, they also discuss my real-life issues, and based on my experiences and challenges I solve their problems, in whatever way possible. 
I know, I am not that great at solving anybody's problem, but once you start accepting yourself, that inner power gives you the confidence to overcome challenges around. Moreover, when I see a live audience liking me back, I feel empowered enough to forget my past and support them back and tell them to move on from hardships, because "if I can, then you surely can !"
How did you figure out your love for fashion and how do you plan on taking your passion for fashion on the next level?
I was inclined towards fashion since my younger days, though lack of resources did not let me do much in my childhood.

Also since I was raised in an orphanage, I could not experiment much due to strictness, even applying a nail paint was a big no-no. 

But, I used to observe actresses and copy them and notice their fashion sense. I used to also enact in-front of the mirror. As soon as I stepped out of the orphanage, I kept on trying different clothes and hairstyles and that's when the 'fashion keeda' in me grew bigger. I am now a fashion influencer, thanks to my audience that actually like me for my fashion sense and also at times guides me with, what to experiment next.
I would really love to model for a fashion magazine. Because, why not? As of now on  Live, sessions I make sure I come up with some fashion based sessions and tips for the users also. 
What are your plans for the next few years?
My long term plan is acting, as I have always been inclined towards it and I used to imitate in-front of the mirror during my younger days. Now I have a live audience in front of me, where I can enact. I have also worked with Shabana Azmi in a short movie 'Aunty Ji' and that's when I realized, I love to create content for a live audience. 
I feel Bigo Live is a gateway to entertainment and through this platform, I can reach out to not only the Indian audience but also the global one and work for my fans and all those out there who support and love me.  I wished to start as a content creator and that's what I am doing right now and have my own legacy now. 
If I manage to influence and motivate even one percent of my fan base, I will feel blessed.
You are very active on social media platforms but how do you deal with negativity on social media as trolling has become the norm?
As a content creator and a social media influencer, you have to be active on such platforms and learn with time the pros and cons of it.  Initially, when I started with Instagram, I used to receive negative comments on my pictures. I decided to keep my account private after seeing that.
Gradually I realized, The social media business has trolls as part of it. It's up to you, to decide what to pay attention to. 
Now my profile is public and I always believe in posting my natural pictures without any filters and makeup and decide to show the REAL ME. I have seen people liking the way I am and have also seen growth in my social media following and since going live is all about being real where you can't edit the reality, I prefer doing that through Bigo Live, where I get a good positive response and I can see the support and people here love me the way I am!
With the onslaught of Covid-19, the world is going through a tough time, what do you want to tell the people?
Since with all this negativity going around, I make sure to create entertaining content & videos, to engage and keep my fans mentally stress free & productive. I have been telling people to stay away from the fake news.
Recently, I also did a session on how to take precautions and follow safety measures. I believe social media influencers should take this opportunity positively and reach out to their fans and guide them correctly.