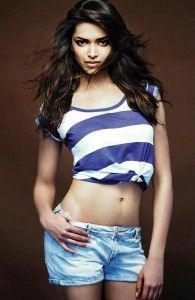 Deepika Padukone's sexy figure often has us wanting those perfect curves. Here is how to get those perfect curves and a fabulous body
Early riser: Deepika gets up as early as 6am to perform yoga and hand-free exercises in her garden though this svelte actress credit her flexible body to badminton.
No gymming: Deepika hates gymming and doesn't visit the gym often. She prefers dancing instead. Her other exercises include Pilates and light weight training that helps Deepika lose weight and staying toned.
Walk twice: Deepika loves walking and goes for a brisk walk every morning and evening for at least half an hour.
Diet: during shoots she prefers home cooked  with dal, two rotis, sabzi, raita, salad. During outdoors she eats  idli or very light food.She also takes proteins like egg whites and fish in the day time.
Secret mantras
She loves chocolates and never starves  herself.
Being a South Indian she loves South Indian food and eats dosa without potato filling with green chutney instead of coconut.
She avoids non-veg and other heavy food at night.
In non-veg, she likes  fishes, generally grilled to avoid extra fat.
After every two hours she eats fruits
So follow her diet and exercise regime to lose weight.