Look at the pictures of Urfi's Glass Dress
Urfi Javed is well known for her experiments with her style since previously she carried a seashell bra and turned it into a mermaid and later she was spotted in a dress made of safety pins. This time, she broke all her records and wore a daring dress of 20 kg that was made of broken glass pieces.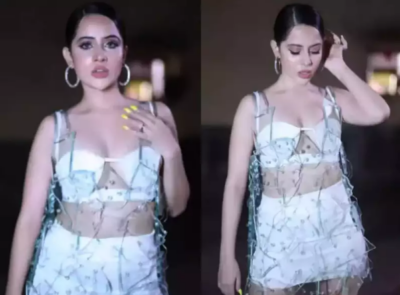 Urfi is a former contestant of OTT Bigg Boss and she wore this crystal dress on her tube top and skirt with shimmering golden heels. She knows that people call her weird but she has the confidence of wearing the dresses that she wants to wear. With her confidence, she trusts herself and believes that she is smart enough in embracing and empowering herself.
Urfi has a good fan following with almost 3.1 Million followers on Instagram and with her recent post of glass dress, she has gained more attention from her followers because of her all-time different styles and trends.