College and makeup are two things which seem so lucrative when put together, yet make us feel so apprehensive. Imagine going a bit over board with makeup? I bet, if you are in college right now and are reading this, you just said, "I feel you, bro!" And hi five woman, I know how cool and at the same time scary can wearing makeup to college can get. But with just a few spare minutes at hand, and a few cool tips and tricks incorporated here and there, you can actually wear makeup to those serious lectures of yours without looking too made up. And as this is a makeup tutorial I assume that your skin is already prepped (cleansed, toned and moisturized) and we are all ready to dig into the makeup part.
1. Just a quick dab of BB/CC cream and bam!
Girl, your skin is young and tender and most probably than not does not need any of those heavy layer of full coverage foundations and concealers. So chuck those aside, and grab your favourite tube of BB or CC cream (whatever you prefer) and dab it all on, but make sure you blend it out perfectly well. And the beauty of BB creams is that just the warmth of your palms is enough to get the product worked into your skin, and make you glow.
2. Powder that little shiny nose up!
Though I would very cautiously mention that powder up your skin only if you sweat a lot, like me, and get oily or shiny skin very easily. And if not, you are good to go with the dewy look you just achieved with your BB cream. But as it is summers and we Indians do tend to get a bit shiny, I would recommend to powder up just your T zone if not the entire face. Trust me it takes just a minute. And if you want a bit more coverage than what your BB cream just gave you, go for a powder foundation and it will layer up the coverage.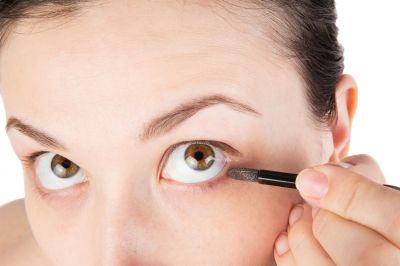 3. Line those gorgeous peepers of yours
No Indian makeup look is ever stated complete without a dash of kohl on those gorgeous eyes of yours. And if you are anything like me and have oily under eye area and your kajal tends to smudge out just after a couple of hours, try sealing in the kajal in your water line by applying a thin line of water proof liquid liner on your lower lash line. And if you are not adept with liquid liners, smudge it out yourself using some matte black powder eye shadow. This will give a nice smokey, smudgy look to your kajal and also set it out for a lasting effect.
4. Apply oodles of mascara and coat and re-coat your lashes
Most of us Indians focus solely on eye makeup when going for a nude makeup look, so why not make those lashes flutter to the best they can. Opt for a volumizing mascara and load up on it— say 2 or 3 coats and make sure the lashes don't look clumpy. And if by chance they start clumping just comb them out using a lash comb or a clean spoolie!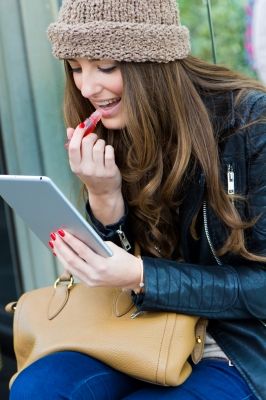 5. Dab on some lip balm or maybe a swipe of your favourite lipstick
Just the very last step, go grab your tinted lip balm and slather it on. This works two ways, one it gives you ample moisturisation for the day and secondly it adds just the right amount of natural flush to your pucker. And for those special days, you can also opt for a sheer to medium coverage pink-peach or nude toned lipstick and go for that natural makeup look.
So this was my go to makeup routine for college. What is yours?